Why Give to CSUSB
Your Gifts Create a Bright Future for Students and Help Them Make the World a Better Place
Supporting students, fueling groundbreaking research, advancing solutions to the challenges of today — there are many reasons to give to Cal State San Bernardino. No matter what you choose to support, your gift will transform tomorrow at CSUSB.
California State University, San Bernardino is a preeminent center of intellectual and cultural activity in Inland Southern California. Set at the foothills of the beautiful San Bernardino Mountains, CSUSB serves more than 20,000 students each year and graduates about 4,000 students annually.
The "value added" by a CSUSB education ranks in the top 4 percent in the nation, according to the Collegiate Learning Assessment, a sequence of tests used by universities nationwide that compare student learning between freshman and senior years.
CSUSB reflects the dynamic diversity of the region and has the most diverse student population of any university in the Inland Empire. More than 80 percent of those who graduate are the first in their families to do so.
Finally, CSUSB is a top supplier of talent to the Inland Empire, one of the fastest-growing population centers in the nation and known for being a region of opportunity, natural beauty, and a favorable quality of life. CSUSB also contributes positively to the I.E.'s surrounding communities and the state of California as a whole, adding more than $500 million to the California economy annually. Ranked 8th in the nation for economic mobility according to Third Way, more than $1.2 billion in earnings by CSUSB alumni can be attributed to their holding a CSU degree.
To learn more about how to make a gift to support current and future Coyotes, contact us today. Have you already included CSUSB in your estate plans? Please let us know about your gift so we can say thank you!
Our Defining Moment: The Campaign for CSUSB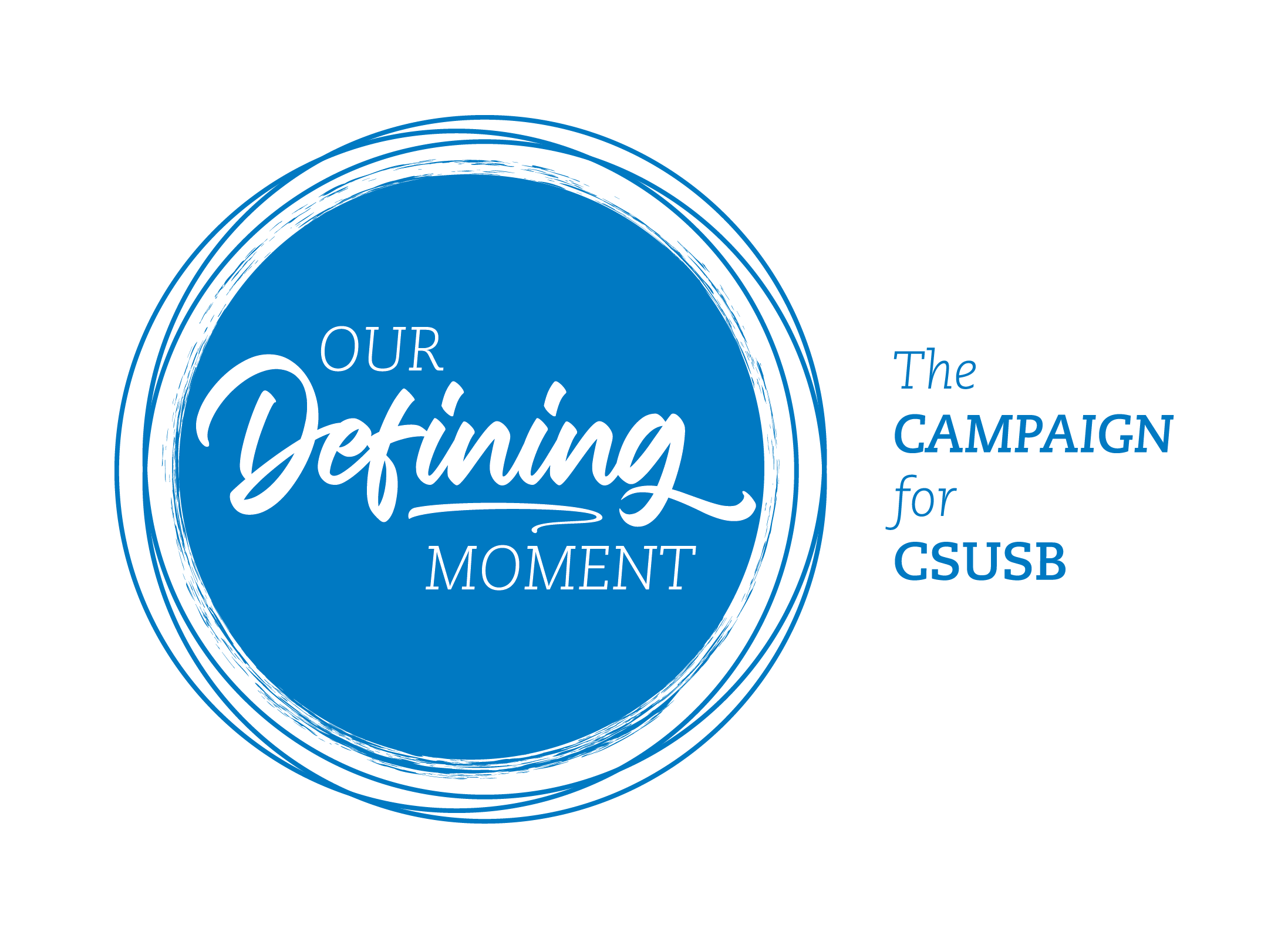 Our Defining Moment: The Campaign for CSUSB provides a prime opportunity to be a part of history: you can use your estate plan to make a transformational impact on the future, both for the students who will pursue their dreams at CSUSB, as well as for you and your loved ones. Your planned gift will be counted as part of the vital resources created by the Campaign, allowing you to truly establish a legacy and help transform tomorrow by providing the gift of a world-class education. There has never been a time in the history of CSUSB when an investment had such profound potential to impact the future of California and the world. Click here to learn more about the Campaign, and how your support can make an impact.
The College Tour | CSUSB As You've Never Seen It
The College Tour is a TV series that tells the story of a single university through the lens of its students.
Are you interested in a glimpse of what it looks like to be a student at CSUSB? To learn more about the special people pursuing their dreams here, and see how you can impact those dreams by including CSUSB in your estate plans, take a few minutes to enjoy CSUSB's episode of The College Tour below.